Bitcoin Funding Rates Turn Negative In Sentiment Reset
December 7, 2021 by mvp00
84
Data shows following the crash, Bitcoin funding rates flipped to negative for the first time since September as market sentiment resets. Bitcoin Funding Rates Turn Negative For The First Time Since Late September As per the latest weekly report from Glassnode, market sentiment reset after the latest crash in BTC's price as funding rates turned
Data shows following the crash, Bitcoin funding rates flipped to negative for the first time since September as market sentiment resets.
Bitcoin Funding Rates Turn Negative For The First Time Since Late September
As per the latest weekly report from Glassnode, market sentiment reset after the latest crash in BTC's price as funding rates turned negative.
The "perpetual funding rate" is an indicator that measures the periodic fee that Bitcoin futures traders have to pay each other to keep their positions. This metric helps us know about which direction leveraged positions tend to.
When the indicator's value is negative, it means short traders are currently paying long traders to hold on to their position. Such a trend may show that the market sentiment is bearish on the price of BTC.
On the other hand, if the metric's value is positive, it means the market shares a majority bullish bias as long traders pay a premium to the short traders.
Now, here is a chart that shows the trend in the Bitcoin funding rates over the past six months: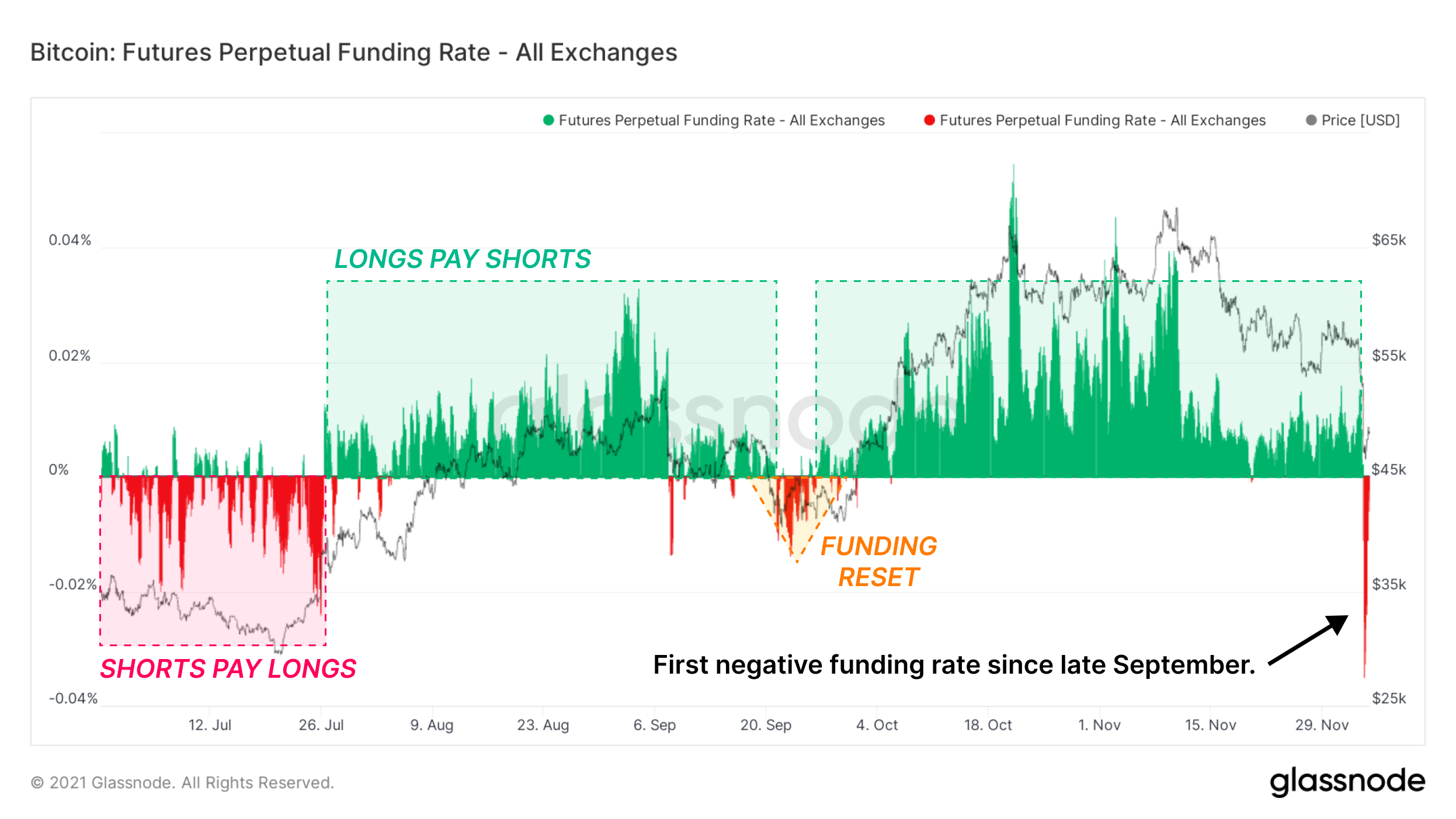 Looks like the funding rates dipped to negative recently | Source: The Glassnode Week Onchain (Week 49)
As you can see in the above graph, the funding rates have been positive for many months now, but following the crash they have turned negative.
Related Reading | Understanding Bitcoin UTXO: Mid-To-Long Term Holders Responsible For November Correction
The reason for this switch is that due to the crash, there was a cascade of long liquidations. This kind of situation can push the funding rates down and to the opposite side.
These long liquidations resulted in the open interest being flushed of $5.4 billion in futures contracts. And subsequently, the funding rates declined to around -0.035%.
While this is the first time since late September that the funding rates have turned negative, such highly negative values were only seen back in July.
Related Reading | Data Shows Bitcoin Short-Term Holders Have Started To Sell At A Loss
This flip to negative means that the Bitcoin market sentiment has now been reset.
BTC Price
At the time of writing, Bitcoin's price floats around $51.3k, down 12% in the last seven days. Over the past month, the crypto has lost 16% in value.
The below chart shows the trend in the price of the crypto over the last five days.
BTC's price recovers a bit from the crash in the past 24 hours | Source: BTCUSD on TradingView
A few days back, Bitcoin's price crashed down to $42k. Quickly after, it recovered a bit to higher levels, and then consolidated for a couple of days. In the past day, the coin has shown some recovery as it has once again broke above $51k.
Featured image from Unsplash.com, charts from TradingView.com, Glassnode