Integrating music with social networking: Melos is more than a music NFT platform
December 3, 2021 by mvp00
7
Music naturally has social attributes. It can convey human emotions from its creators to the listeners, who can then experience these emotional expressions and form some kind of empathy. It is precisely this process of empathy through expression, which gives music its social attributes. Music is becoming the new paradigm for socialization in the metaverse
Music naturally has social attributes. It can convey human emotions from its creators to the listeners, who can then experience these emotional expressions and form some kind of empathy. It is precisely this process of empathy through expression, which gives music its social attributes.
Music is becoming the new paradigm for socialization in the metaverse
With the metaverse slowly becoming a reality step by step, the cost of connection between people will become ever more low. It is within such a space that the social attributes of music will become fully developed. Music cannot only serve as an audio-visual component of the metaverse, but also as a form of expression between people in the metaverse. As NFTs, music can assume multiple social functions. For example, music NFTs can play the social role of a gift from one player to another or they can be displayed in personal or public spaces as exhibits of players' tastes and expressions. They might even serve as admission tickets to music scenes in different metaverse spaces.
Therefore within the verse, music NFTs combined with social functions are undoubtedly promising innovations. It is worth noting that players from the youngest generations are becoming the backbone in the development of the metaverse. Their emphasis on self-expression, public display, interaction seeking and participation definitely make music NFTs the best way for them to showcase themselves online.
However, the current music NFT platforms in the market are often functional but they lack social capabilities. Here the operations of both creators and users in the platform are limited to creating and selling or buying collections. There are no opportunities for further interaction, which restricts music in its social attributes. There exists a real market gap for platforms that truly allow creators and users to interact with each other.
Fans co-construct the Melos ecosystem with music creators
Melos is a Web 3.0-based music collaboration social platform that supports online music creation, multi-party collaboration, community interaction and NFT trading.
Melos is dedicated to building a highly participatory music NFT platform for creators, collectors and fans through multiple social features. On Melos, creators and fans can collaborate on music NFTs together, collectors can use their music NFTs for secondary creations. Moreover, they can also participate in the Melos economy with their music NFTs, such as playing some music mini-games released by Melos, etc.
Take creators for example. Creating music with fans on the Melos platform can inspire them on the one hand, whilst also increasing their own sales revenue on the other hand.
Through Melos' DNAtree feature, creators and fans can communicate and interact online to collaborate on a complete piece of music. Anyone can make suggestions or direct changes to the music piece in the pipeline and each change will be recorded on a block. Through the DNAtree, Melos can ensure traceability and the music NFT generated will subsequently be distributed according to the information in the DNAtree. So that those involved in the creation of the music will be able to obtain a continuous stream of revenue from these NFTs with each transaction.
Creators can also opt to use the DAO model in their music development, which is a way to increase fan engagement. For example, fans can use their Melos tokens to voice their opinions and make contributions to the creator's work or unlock more of the creator's activities, such as voting on the style, expression, and form of the creator's next music piece. Consequently, the creator can reward fans based on their contributions, such as with the premiere of their work, access to a private fan community or priority status to participate in other creations. This model makes the relationship between music creator and fan even closer.
For fans or other users, participation will no longer be limited to the purchase and collection of music NFTs. In addition to the above-mentioned collaborations, fans can also make secondary creations based on the music they purchased. This way they inject their own DNA and creativity into the original work to generate some exclusive music NFTs. These unique NFTs can be directly put onto the NFT market for sale, or uploaded to other social media platforms for further promotion.
Our workshop makes everyone able to become a musician
The Melos' Workshop tool ensures that every user has the freedom and capability to create music without professional guidance. The Melos platform opens up the world of music creation to everyone by using low entry-thresholds for users, which gives the platform a stronger community full of creative energy.
Lazy Mint is a practical tool to reduce costs. For many users, it is unknown whether or not the NFTs they create will sell, or at what price they will. Therefore they may not want to commit to the high cost of minting NFTs beforehand, including the Gas fees required to do so. The Lazy Mint function postpones the Gas fees until after the first NFT gets sold, which ensures that users do not need to spend any fees on the platform before earning income. This initiative significantly lowers the bar for users to start working on their own creations.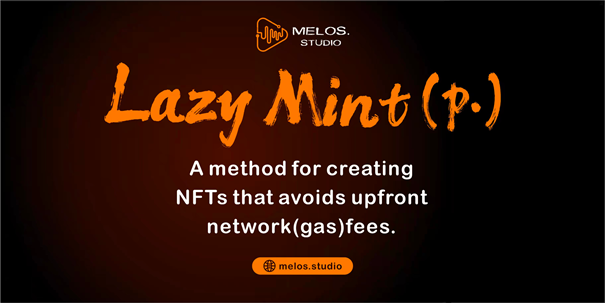 Finally, there is the sales aspect. Melos is a music social platform built for creators, collectors and fans. As a place where different users connect and share, Melos's trading market is not just an in-app NFT market. It is a public trading market like OpenSea and Rarible. Therefore, buyers do not only stem from the platform's own community members, but people from all over the world can come here to acquire the music they love.
The goal of Melos is not just to build a music NFT platform, but to use this foundation for the realization of music NFTs' potential through the social network integrated within the platform.  Through the use of assets such as music NFTs and Melos tokens to facilitate interaction, participation and communication between creators and users, Melos has achieved the creation of a social platform where users can interact and connect with each other in the metaverse.