BiKi Lists GCGC – The New Gold Standard powered by DeFi Architecture
June 28, 2021 by mvp00
24
GCGC.one went through 10 months of intensive development and established partnerships and stakes in gold mines across the globe. It's core team consists of highly experienced team in fintech, global trade, mining, insurance. The Project's L1 Mainchain is already live and can be utilized for ultrafast transactions, its biggest feat is having the ownership of
GCGC.one went through 10 months of intensive development and established partnerships and stakes in gold mines across the globe. It's core team consists of highly experienced team in fintech, global trade, mining, insurance.
The Project's L1 Mainchain is already live and can be utilized for ultrafast transactions, its biggest feat is having the ownership of operational gold mines in Chile (refer to whitepaper for more info)
The top features that distinguish GCGC in a class of its own is its BFT + POW hybrid consensus that allows for 1 sec transactions as well as an added level of security. It's Wallet to Wallet transcations are feeless while other transactions are very inexpensive costing "pennies". GCGC also features a dual token ecosystem for store of value and transactions. It's ecosystem approach to transaction system development with 3 pillars: resource development, distribution, and adoption.
GCGC's solution to the market consists of a holistic ecosystem, a DeFi platform allows investors to connect directly to the profitability of gold mines with no middlemen. Tokenization allows for optimization and disruption of traditional mining industry, unlocking the latent value of unmined gold reserves. GCGC's stablecoin transparently backed by resources with inherent value makes it standout from other stables with questionable backing/structure.
In its upcoming route map plans, the project will partner with E-Commerce business globally, starting in South America and build its own e-commerce infrastructure which all utilizes its stablecoin for payments, several large brand partnerships are already in the works, it will develop Fintech applications with a focus on transactions, mobility and e-commerce. Partnerships with Authorities to create ecosystem of interlinks stablecoins based on GCGC Protocol.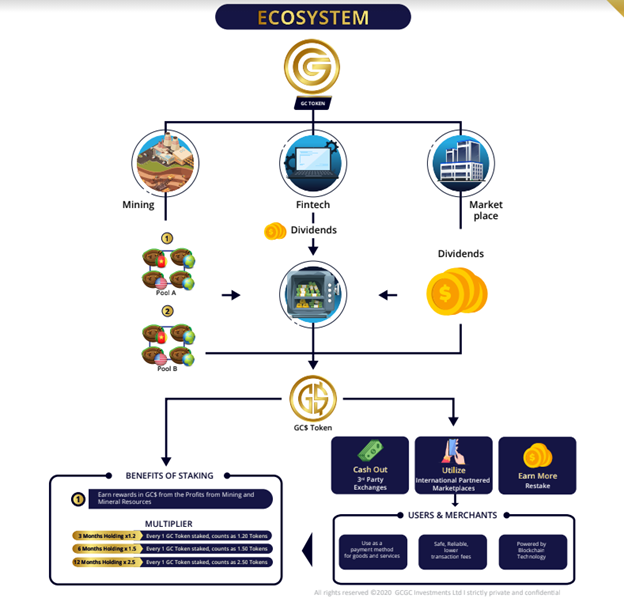 GCGC differentiates itself from other defi projects as it will be leveraging profits from actual operating businesses and gold mines into tokenized staking rewards, combining traditional business with the latest defi technology. Users get to earn rewards from staking, which earns real profits from actual businesses. It has a 10 Billion max supply of GCT, value capture from staking, earning rewards distributed in stablecoins minted through growth of ecosystem. Stablecoin reserves are audited every 90 days by reputable independent auditors.
"We are excited to partner with BiKi Exchange for our initial listing. Their team has been very professional and great to work with." Jonathan Shek, CEO
"BiKi is proud to announce this premiere listing of GCGC, an ambitious project with real business gains for users, we are excited to let BiKi users to gain access at this early stage" Ethan Ng, BiKi CEO Southeast Asia
BiKi Twitter: https://twitter.com/BiKiEnglish
BiKi Telegram: https://t.me/BikiEnglish
GCGCTwitter: https://twitter.com/GCGCcommunity
Polkally Telegram: https://t.me/gcgccommunity